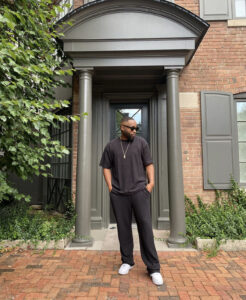 From the heart of Toronto to the global stage, Lincoln Blaché is a force to be reckoned with in the dynamic world of music, fashion, and art. A recipient of Juno Nominations and the prestigious Black Designer of the Year award, Blaché has proven that he is not only a master of his craft but also a trailblazer who isn't afraid to experiment and innovate.
Blaché is the creator of Made In Sauga®, a visionary platform where he has launched promising groups like BLK and GOODBADUGLY, manifesting his prowess as a writer and producer. His unique fusion of talents has given rise to a remarkable array of multidisciplinary artistic expressions, solidifying his reputation as a creative powerhouse.
After a distinguished career, Blaché is now preparing to make a highly-anticipated return to his musical roots. His upcoming single "Saucin" is a captivating Jersey Club track written and produced by the artist himself. Tinged with infectious beats and a soulful rhythm, "Saucin" is much more than a single—it's a musical journey that transcends the boundaries of sound, style, and culture.
"Saucin" is a testament to Blaché's passion for pushing the envelope and crafting immersive experiences that stimulate the senses and provoke thought. Through this release, Blaché invites his audience to embark on a transformative journey of self-expression and authenticity. With its vibrant energy and boundary-breaking spirit, "Saucin" is not just a single—it is a cultural phenomenon that is set to make a lasting impression in the world of music and beyond.
Lincoln Blaché is not only a multi-talented artist but also an embodiment of the power of creative expression. As we await the release of "Saucin," we can expect nothing less than a manifestation of Blaché's artistry at its finest—innovative, inspiring, and truly unforgettable.
For more information and media inquiries, please contact (info@21entgroup.com) and join us in witnessing a new chapter in the journey of Lincoln Blaché, as he continues to shape the global creative landscape.