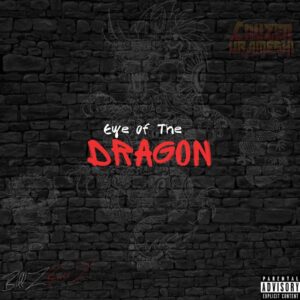 American artist BillZBondZ new single "Eye of The Dragon," has been rising to new heights since its release in the summer of 2023. With its infectious beat, clever wordplay, and dynamic production, this track is a must-listen for fans of the hip hop. Let's explore the reasons why you should check out this remarkable collaboration.
"Eye of The Dragon" captures the essence and power of hip hop at its finest. BillZBondZ's unparalleled flow and lyrical prowess seize your attention from the get-go, gripping you with an intensity that refuses to let go. Cruzer Urameshi's masterful production adds the perfect backdrop, blending hard-hitting beats with carefully crafted melodies, showcasing his versatility as a super producer.
Cruzer Urameshi prowess as a producer shines through in "Eye of The Dragon." Known for his eclectic and forward-thinking soundscapes, Urameshi blends elements of classic hip hop with modern production techniques, resulting in a unique sonic experience. The track resonates with a captivating energy, combining heavy-hitting drums, vibrant synths, and atmospheric layers that complement BillZBondZ's mesmerizing flow.
The collaboration between BillZBondZ and Cruzer Urameshi is a testament to the power of musical partnerships. The artists' chemistry on "Eye of The Dragon" elevates the song to new heights, as their combined talents create a synergy that amplifies the track's impact. The seamless fusion of BillZBondZ's captivating lyricism and Urameshi's innovative production leaves listeners craving more.
"Eye of The Dragon" serves as a celebration of hip hop's diverse roots and influences. Drawing inspiration from various cultural references, the track weaves a narrative that showcases both BillZBondZ's vivid storytelling and Cruzer Urameshi's ability to infuse different beats and sounds into the fabric of the genre. This collaboration is a testament to the power of music as a bridge between cultures and communities.
Cruzer Urameshi has become synonymous with groundbreaking production. This super producer solidifies his reputation as a boundary-pusher, unafraid to explore new musical territories such as lofi and synthwave. As fans of Urameshi eagerly anticipate his future projects, "Eye of The Dragon" serves as a true milestone and a testament to his growth and evolution as a sonic visionary.
BillZBondZ's "Eye of The Dragon," produced by Cruzer Urameshi, is a masterful hip hop anthem that showcases the undeniable talent and creativity of both artist and producer. This groundbreaking collaboration combines BillZBondZ's magnetic lyricism with Urameshi's innovative production, resulting in a track that demands attention. Whether you are an avid hip hop fan or simply appreciate well-crafted music, "Eye of The Dragon" is an absolute must-listen. Prepare to be captivated by this fusion of talent, and witness the birth of a new hip hop classic.
Full song on all platforms : Eye of The Dragon
BillZBondZ Main Link : BillZBondZ
Cruzer Urameshi main link : Cruzer Urameshi