Before Transformers: Rise of the Beast Theatrical release on June 9, Colliders Steve Weintraub I got to sit with two of the movie's stars and human heroes Anthony Ramos (In the Heights) and Dominic Fishback (herd).The duo joined the ensemble vocal cast in the prequel from the director Stephen Caple Jr., they tell Weintraub, in the unique position of having to bring all of their emotions and energies while acting on the other side of the cardboard instead of the Autobots. In an interview that you can watch or read below, Ramos and Fishback reflect on their experiences on set, from their most challenging scenes to their first-ever shoot on location at the top of Machu Picchu on location in Peru. increase.
of Rise of the Beast, former military tech expert Noah Diaz (Ramos) and artifact researcher Elena Wallace (Fishback) cross paths when their unique talents lead to important and powerful items. When they unknowingly set off a chain of events, the Autobots, Maximals, and humans must band together to stop an ancient evil entity targeting Earth. The first part, set in 1994, is Optimus Prime (Peter Cullen) are still wary of humans, and Noah formed an accidental bond with Mirage (Pete Davidson) he and Elena scourge their loved ones (peter dinklage) and terrorism.
Thanks to the introduction of Maximals led by Optimus Primal (Ron Perlman), this soft reboot transports viewers into the breathtaking jungles of Peru. Ramos and Fishback say that "the heat was insane" there, but Caple his junior said it was an experience "really special to be able to capture a piece of the world." The most beautiful shots you've ever seen. See below for how we filmed the sequence on the other side. Michelle Yeohair laser, Liza CosseyMr Arcy, John DiMaggio's Stratosphere, and why their human co-stars are sometimes harder than bots.
Collider: Nice to meet you both. I am a fan of your work.others transformers, obviously they should go see it. If someone hasn't seen what you've done before, what is the first thing you want them to see and why?
Dominique Fishback: So I Say herd Even if it scares me later, it's okay. Because I started acting in school and when I graduated I decided to write a one-man play playing multiple characters, but I didn't think I would get the same opportunity to play multiple characters in a series. bottom. She varies quite a bit from episode to episode, especially in the final episode. I don't want to spoil it, but it was really exciting and showed diversity. That was my dream when I first wanted to act. I wanted to show versatility and I feel it shows. Then they went to see this and thought, "Oh no!"
completely.
Anthony Ramos: In the Heights,I think. You know, I really have to show a lot of sides in it…
FISHBACK: Versatility, Multiple Versions…
Ramos: Versatility. [laughs].
Fishback: he always accepts my answer [Laughs].
Ramos: Whoa.Yeah, you know, it's just different… the shape changes In the Heights,I agree.
Fishback: I used to sing that song on set. transformers.
Ramos: Yes, it was really delicious.
Fishback: Every time I saw him, I would say something and he would sing it with me, and I would fangirl like, "Oh my god."
For both of you, this is a big job. What surprised you about making a film on this scale and in this range, because you shot it a few years ago and had to wait until it came out?
Fishback: What surprised me was that it was really intimate. A lot of the time there are obviously no robots, so this ends up being me and Anthony acting for the broadcast. It felt like a small project even though it was such a big project.
Ramos: Oh, I mean, I didn't see it. [it]. I'm going to see the movie for the first time today, but at least I've seen the trailer, worked on ADR, and specifically seen what Pete did on Mirage. It's just that you're in this bubble for a bit while you're shooting.If you're not shooting with Dom, or if you're not shooting with Tove [Nwigwe], I'm shooting in the absence of anyone. So I'm just talking to the air and playing emotional scenes.
I mean, there's a scene with Mirage that's very emotional, and when you're hitting Mirage's chest, it's like, "Raj!" During filming, one of the grips had a piece of cardboard stuck in it, and he was standing on top of me, acting out this emotional scene, and I slammed the piece of cardboard that this guy was holding. I'm just there. myself. So shout out to our crew, they were great. I mean, you actually watch the movie, you see the characters and how they're constructed, and you just observe it. I look at the poster and think, "Oh, Primal is crazy." It's really cool, isn't it?
Watching a movie makes me very happy.
Ramos: Thank you.
CGI looks great. I really do. One of the really cool things about this movie is what happened in Peru, which adds even more. Since you actually went there, could you tell us about the filming there? I don't think they ever filmed where you guys were.
Ramos: It was special, really special. Peru, as soon as I arrived I knew this would be different. We arrived at Machu Picchu and were staying in a hotel there. There was a big garden there, and the shaman came and went out there with me, Dom, and Lorenzo. [di Bonaventura] and steven [Caple Jr.]And the shaman blessed our work and the time we would spend there. And we felt like we weren't. We weren't alone, but now it felt like the country was behind us.
Fishback: A government official came and gave me and Anthony a plaque to congratulate us on filming there.
Ramos: But it was special. I think we were one of the first to shoot at Machu Picchu. We went to the jungle and filmed in Tarapoto for about two weeks. The heat was insane, but we got some of the most beautiful shots Steven had ever seen. It was like we were really in the rain.
Fishback: They're not all green screen like the real thing.
It adds a lot, and I also think he used some great drone shots in the film.
Ramos: Oh, 100%.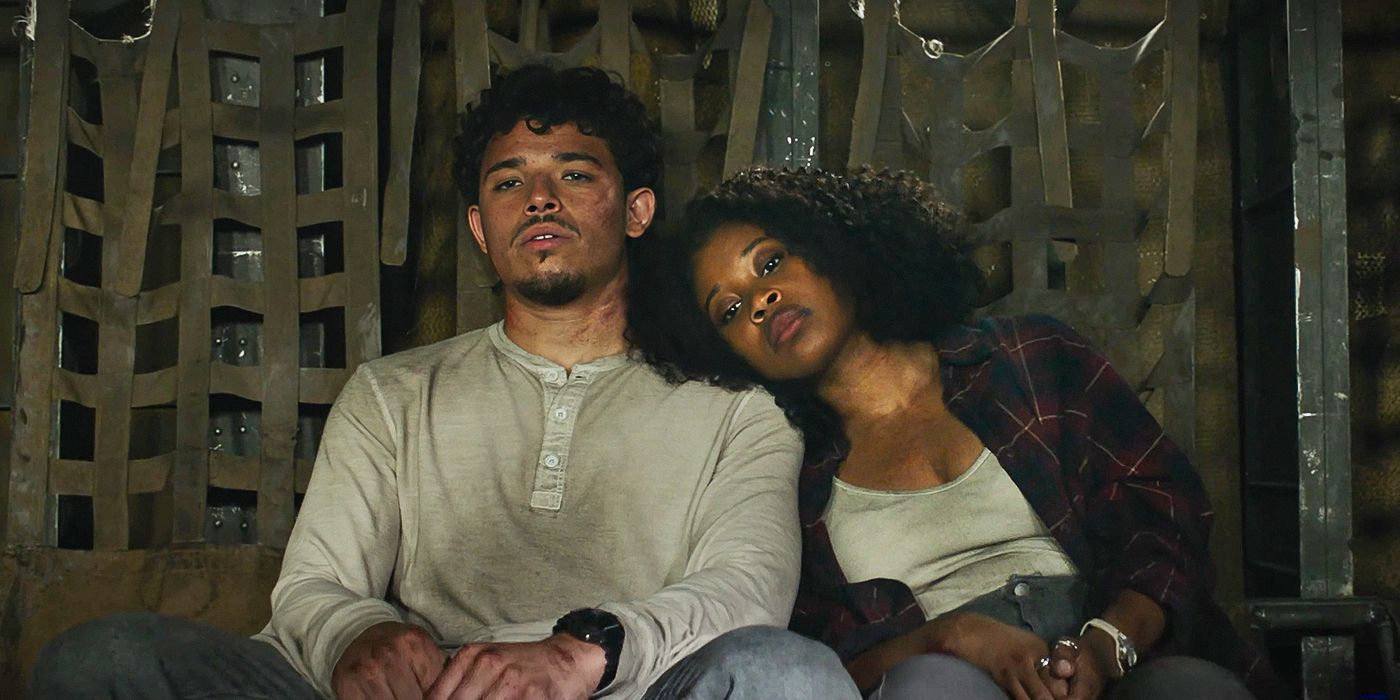 So, I'm very curious, what sequences in the movie did you find easy that ended up being very annoying?
Ramos: [Laughs] For me it was falling asleep. I was literally looking at Dom…
Fishback: [Laughs] Of course I am giving him my emotional stuff and he is falling asleep. I'm like, "Damn, I'm so bored."
Ramos: Oh, it's- I'm talking about, we're on this plane at about 3am doing this one night scene and I'm just staring at her, she said…
Fishback: It was my father.
Ramos: Well, when you talk about your dad, I literally look at her like this. [Mimes falling asleep]
Fishback: So if you see this, please know that I am expressing my feelings for Anthony in his sleep.
Ramos: I'm not going to lie, that scene had to be reshot, that scene had to be shot. I mean, it was one of the most difficult nights of the whole movie, a scene that on paper I thought was going to be a walk in the park.
Transformers: Rise of the Beast is currently in theaters. Check out Collider's interview with director Steve Caple Jr. below.