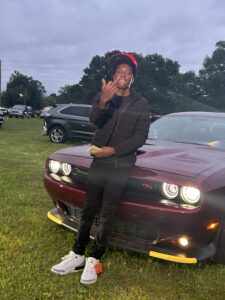 As the digital age continues to be a springboard for emerging talent, one such artist to watch is NLF Dilly, born on April 24, 2002, and currently hailing from Perry, Florida. This young Hip-Hop artist is gaining recognition for his unique blend of rich, energetic vocals that he's been honing for the past five years, and his remarkable ability to motivate and boost the confidence of his listeners.
Dilly's sonic presence in the music industry, largely characterized by his vibrant energy, sets him apart. His inspiration stems from observing his uncle's creative process, which subsequently led him on his own musical journey.
In the current music scene, which Dilly finds rich in new sounds, he continues to carve out his own niche. He believes his music's purpose is two-fold: to generate revenue through his unique creative process, and to invest in his family and his art.
In discussing his milestones, Dilly highlights the importance of authenticity and visibility in his journey. He takes pride in releasing content that reflects his personality and values, striving to maintain genuine connections with his audience.
When asked about his future prospects, he envisions himself performing on grand stages like Rolling Loud and being featured on platforms like XXL. To young aspirants in the music industry, Dilly shares this advice: "Don't be afraid to take risks or remove yourself from around people that don't support you."
Among his creations, Dilly cherishes the track "Bag Flipper" for its impressive one-night streaming accomplishment, which validated the seriousness and potential of his musical journey. He revealed that he'd love to collaborate with Key Glock, Skilla Baby, and Lil Baby, artists he deeply respects.
Dilly's recording process is a blend of patience and a high energy level, and he often aims for a one-take session. When asked about his dream collaboration, he shared his admiration for Key Glock.
Dilly recently released a song titled "Outer Space." The track, produced by Projectvillage, dropped on April 24th, and it's pure Dilly – an injection of charisma and enthusiasm that gets your head nodding. The standout line "Cool ass young nigga I like hot sauce on my chicken," offers a taste of his unique lyrical style.
"Outer Space" was born out of an Easter Sunday where everyone heads to the park for a celebration. The vibe of recording this song was electric, embodying the spirit of the festive occasion. The song is a motivating, hype anthem encouraging listeners to relentlessly chase their passions, drown out the noise, and build upon their own success.
In a music industry where new sounds are constantly emerging, NLF Dilly is an artist worth your attention, resonating with an audience seeking relatable, energetic, and confidence-boosting Hip-Hop music.